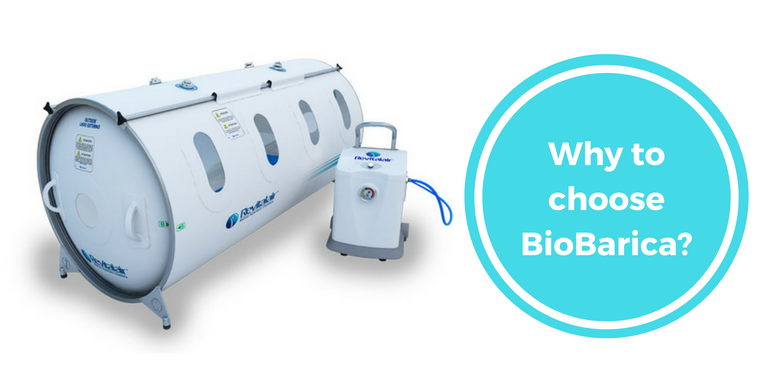 Accessibility to medical centers
Hyperbaric Medicine has evolved in the world, allowing doctors to access it as adjuvant therapy for many pathologies. The BioBarica centers use the Revitalair® 430 technology chambers, making TOHB a more accessible therapy for patients and professionals, due to the wide expansion of centers that work interconnected with each other and with standardized quality standards in the implementation of the treatment.
Medical team with continuous training
The development of the new Revitalair® 430 technology and the expansion of the treatment at pressures ˂ 2 atm (called "medium" pressure HBOT) has contributed to the development of new therapeutic indications not initially established.
The professionals of each center carry out continuous training in new therapeutic indications, improving the quality of attention to the patient. BioBarica provides constant scientific support and medical training to all the professionals of the network, who are professionals of high prestige in the different areas of Hyperbaric Medicine.
Safer treatment
HBOT using chambers that work at medium pressure are much safer than the chambers that perform the treatment at higher pressures and there are practically no reports of adverse events in the patients treated in our centers.
Working at 1.4 atm is safer than 2.4 atm in neurotoxicity due to the fact that neuronal excitability is dose dependent on oxygen1. While at higher pressures a degree of neuronal hyper-excitability is obtained, when the patient breathes 100% oxygen at the pressure that the Revitalair chambers work at the neuronal level, a sedation state is produced1. These results suggest that HBOT at medium pressure could be used in the treatment of patients with a history of seizures of other etiology and / or epileptic patients, ideally this pressure to perform the treatment in pediatric patients.
Efficacy of medium pressure treatment
In recent years, treatment at pressures close to the minimum pressure required by the Societies of Hyperbaric Medicine has been applied in several diseases, around 1.4 atm, since it is safer, easier to apply and shows excellent efficacy therapeutic2,3,4,5.
Hyperbaria achieved by the chambers working at 1.4 atm produces a sufficiently high hyperoxia (9 times more) that greatly exceeds the minimum necessary oxygen pressure, calculated mathematically, at the level of small blood vessels in all tissues to achieve an oxygen penetration radius that can access damaged or hypoxic tissue6.
In neurology, superior therapeutic effects were achieved by working with pressures lower than 2 atm than at higher pressures, and the researchers suggest that at the neuronal level neuroplasticity and axonal regeneration is achieved with low-level oxygen doses, since at higher oxygen levels the reactive oxygen species (ROS) are toxic at the level of the neuron and do not produce the therapeutic effect7.
Some researchers even reported that HBOT at 1.5 atm is more effective in the anti-inflammatory, angioprotective, endothelial cell signaling, oxidative stress and cellular apoptosis than treatment at 2.4 atm and propose medium-pressure HBOT for the treatment of wounds instead of the use of HBOT at pressures > 2 atm8.
Effectiveness of the treatment
In analogy with pharmacological therapies, HBOT should ensure that the level of O2 remains within the therapeutic window. That is, to exceed the minimum threshold necessary to fulfill the vital functions of aerobic cells, without exceeding the concentration ceiling, avoiding the toxicity associated with the excessive production of reactive O2 species (ROS). An important item is to adjust the therapeutic dose of ROS in pediatric patients and the medium pressure is currently used for the treatment of neurological pathologies and in pediatrics. This is achieved effectively using Revitalair technology chambers2,3,4,5.
Bibliographic references
Kot J, Winklewski PJ, Sicko Z, Tkachenko Y. Efffect of oxygen on neuronal excitability measured by critical flicker fusion frequency is dose dependent. J Clin Exp Neuropsychol2015; 37 (3): 276-84
Society, U.a.H.M., Hyperbaric Oxygen Therapy Indications: 13th Edition 2013.
Rossignol DA, Rossignol LW, Smith S, Schneider C, Logerquist S, Usman A, Neubrander J, Madren EM, Hintz E, Grushkin B Hyperbaric treatment for children with autism: a multicenter, randomized, double-blind, controlled trial, BMC Pediatrics 2009, 9: 21; 1-15
Liu Z, Xiong T, Meads C. Clinical efficacy of treatment with hyperbaric oxygen for neonatal hypoxic-ischaemic encephalopathy: systematic review of Chinese literature 2006 Aug 19; 333 (7564): 374.
Sénéchal C, Larivée S, Richard E, Marois P. Hyperbaric Oxygenation Therapy in the Treatment of Cerebral Palsy: A Review and Comparison to Currently Accepted Therapies. J Am Phy Surg Volume 12 Number 4 Winter 2007. 109-113
Krogh, A., The number and distribution of capillaries in muscles with calculations of the oxygen pressure head necessary for supplying the tissue. The Journal of physiology, 1919. 52 (6): p. 409-415.
Efrati, S. and E. Ben-Jacob, Reflections on the neurotherapeutic effects of hyperbaric oxygen. Expert review of Neurotherapeutics, 2014. 14 (3): p. 233-236.
Kendall, A.C., et al., Hyperbaric oxygen treatment reduces neutrophil-endothelial adhesion in chronic wound conditions through S-nitrosation. Wound Repair and Regeneration, 2013. 21 (6): p. 860-868.
Comments are closed.