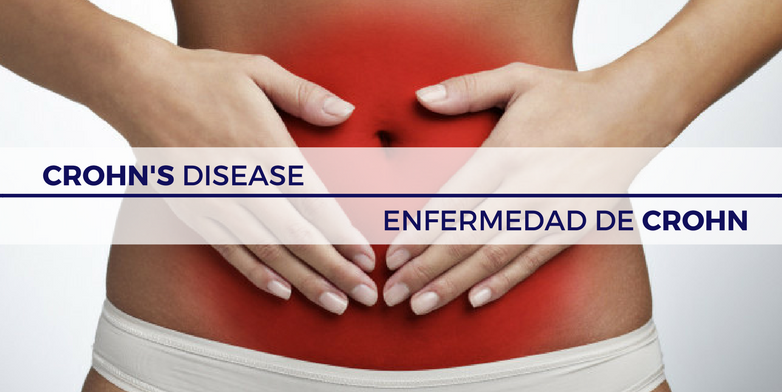 Crohn's disease is a chronic inflammatory process of the intestinal tract that can affect the digestive tract from the mouth to the anus, as well as the lower portion of the small intestine (ileum) or the large intestine (colon and rectum).
The main symptoms of Crohn's disease are:
Colic and abdominal pain
Diarrhea
Fever
Weightloss
Swelling
Pain or anal discharge
Skin lesions
Rectal abscess
Fissure
Articulations pain
Symptoms may vary according to severity. Stress and some foods can trigger or worsen symptoms.
The causes of Crohn's disease are unknown. However, it is related to autoimmune reactions, genetics and other factors such as smoking or maintaining a high-fat diet. Medications such as aspirin or ibuprofen, antibiotics, and birth control pills may slightly increase the likelihood of developing the disease.
The treatment of Crohn's disease of the colon is similar to that of ulcerative colitis. In small bowel disease, sulfasalazine may have a marginal benefit. The symptoms and inflammation associated with the exacerbation of the disease are suppressed by oral corticosteroids such as prednisolone. Metronidazole may be beneficial in the treatment of active Crohn's disease, especially with perianal involvement, possibly due to its antibacterial activity. Other antibacterials should be administered if specifically indicated (for example, sepsis associated with fistulas and perianal disease) and for the treatment of bacterial overgrowth in the small intestine. A general nutritional care and adequate supplements are essential.
What are the effects of Hyperbaric Oxygenation Treatment?
The treatment with Hyperbaric Oxygenation (HBOT) is a non-invasive method that consists of supplying oxygen at high concentrations in a pressurized Hyperbaric Chamber at a minimum of 1.4 atmospheres (ATM). This generates a Hyperoxia, meaning that it significantly increases the level of Oxygen in the blood and, therefore, in the tissues. Hyperoxia triggers numerous health benefits.
The anti-inflammatory effects together with the stimulation to the scarring and tissue repair produced by the treatment with Hyperbaric Chamber are very beneficial for patients with Crohn's Disease or Ulcerative Colitis. The evidence of these clinical results has led the Hyperbaric Chamber to be introduced with increasing frequency to the treatment protocols of Inflammatory Bowel Diseases. The result is the improvement of the symptomatology of the patients and their quality of life, since it helps even the healing of fistulas.
Studies
In 2012 Bedioui, Makni, Magherbi and Safta published a review focused on perianal disease. This text offers data from 4 studies of 22 patients diagnosed with perianal Crohn's disease. The average age was 37 years. After HBOT (mean of 42 sessions) remission of lesions was observed in 15 patients (68.18%).
In 2014 was published a systematic review on the efficacy and safety of treatment with hyperbaric oxygenation in inflammatory bowel disease. The review included a total of 17 studies with 613 patients (286 diagnosed with Crohn's disease and 327 with ulcerative colitis). 40 patients presented perianal disease with a mean affectation of 2 years before applying the treatment. The average response rate in these 40 patients with perineal disease was 88% (out of a total of 40 patients, 18 evolved to a complete cure and 17 to a partial cure).
The authors conclude that HBOT is safe and effective.
Sources
American Society of Colon and Rectal Surgeons
National Institute of Diabetes and Digestive and Kidney Diseases
World Health Organization
Dulai PS, Gleeson MW, Taylor D, Holubar SD, Buckey JC, Siegel CA. Systematic review: The safety and efficacy of hyperbaric oxygen therapy for inflammatory bowel disease. Aliment Pharmacol Ther. 2014 Jun; 39 (11): 1266-75.
Bedioui H, Makni A, Magherbi H, Ben Safta Z. Hyperbaric oxygen in the treatment of perineal Crohn's disease era of infliximab: a renewal interest ?. Tunis Med. 2012 Jun; 90 (6): 427-30.
Comments are closed.