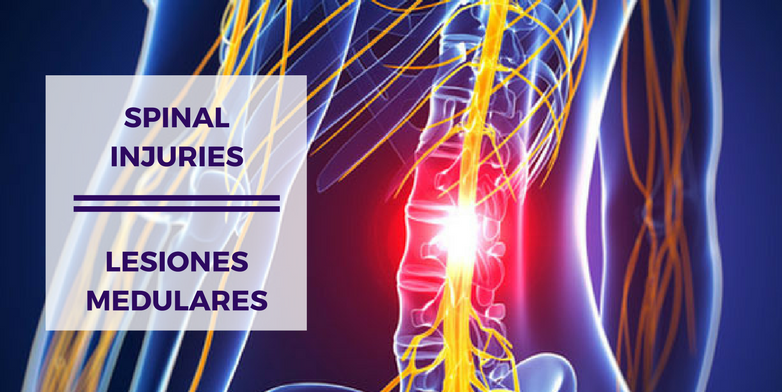 A spinal cord injury is a damage to the spinal cord caused by a trauma (for example, an accident) or disease or degeneration (for example, cancer). Up to 90% of cases are due to traumatic causes, although the proportion of spinal cord lesions of non-traumatic origin seems to be increasing.
The symptom may include partial or complete loss of sensation or motor control in the arms or legs and even throughout the body. The most severe spinal cord injuries affect bowel regulation systems, bladder, respiration, heart rate and blood pressure. Most people with spinal cord injuries suffer from chronic pain.
Between 250,000 and 500,000 people suffered spinal injuries worldwide every year.

For the most part, injuries are due to preventable causes, such as traffic accidents, falls or acts of violence.

People with spinal cord injuries are two to five times more likely to die prematurely than those who do not.

The lowest survival rates correspond to low and middle income countries.

Spinal cord injuries are associated with rates of schooling and economic participation and represent an important cost for both people and society as a whole.

In men, the risk is higher in the youth (20 to 29 years old) and at 70 years. In women the greatest risk is registered in adolescence (15 to 19) and after sixty years. The male/female ratio is at least 2:1, although in some cases, it can be much higher.

The mortality risk reaches its maximum level in the first year after suffering the injury and remains high compared to the general population.

People with spinal cord injuries are 2 to 5 times more likely to die prematurely than others.
How does the hyperbaric chamber helps?
Treatment with hyperbaric chamber produces an increase in cerebral blood flow and decreases edema, stimulates the repair processes of injured tissues, regulates inflammatory processes, has direct effects on some neurotransmitters and increases Oxygen consumption of the central nervous system. All these beneficial effects of Oxygen present improvements in patients with neurological pathologies.
SOURCE
World Health Organization
Comments are closed.