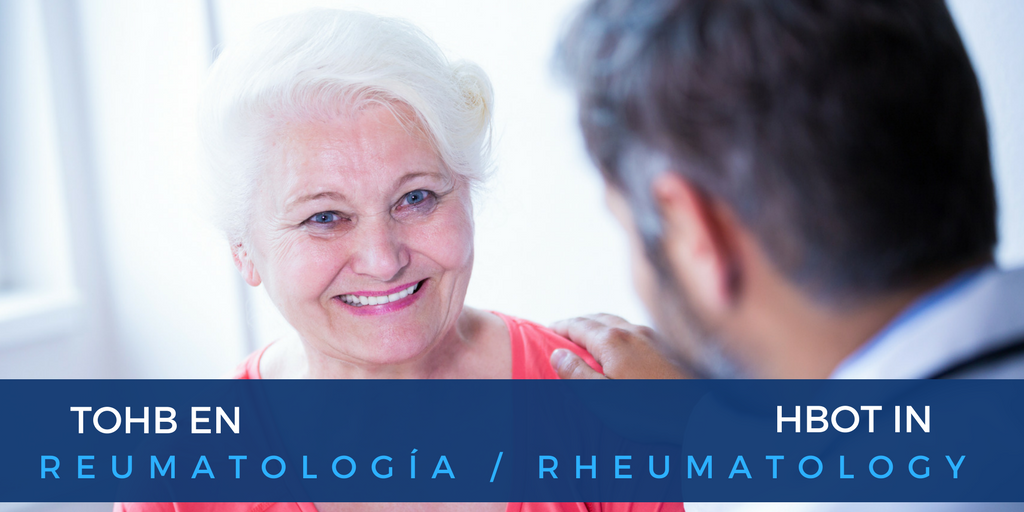 The hyperbaric chamber is highly effective when treating rheumatologic pathologies, such as arthritis, osteoarthritis, fibromyalgia, vasculitis or scleroderma. The action of the hyperbaric oxygen dilutes large amounts of O2 in the blood plasma being rapidly used by cells and reaching tissues where perfusion is compromised. This creates a higher efficiency in the anti-inflammatory process and helps to regenerate tissue in rheumatic diseases.
The hyperbaric oxygenation treatment produces the following physiological effects in patients with rheumatologic diseases:
-Vasoconstriction: Reduces edema and inflammation by increasing the oxygen availability..
-Osteogenesis: The Hyperoxia stimulates the differentiation of bone forming cells favoring osteogenesis and bone repair
-Regulation of oxidative stress: Regulates the production of reactive oxygen species (ROS) and stimulates the action of antioxidant enzymes.
-Cellular inmunity: Modulates immune response and stimulates the bactericide mechanism.
Thanks to these effects, HBOT is efficient as a contributig therapy in arthritis, arthrosis, scleroderma, vasculitis, fibromyalgia, Reynaud syndrome and rheumatism of soft tissues.
Clinical investigations have shown this treatment significantly reduces pain in patients with fibromyalgia. For example a clinical triel in Universitary Clinic Hospital "Manuel Fajardo" (Habana, Cuba), that included people  of both sexes, between 20 and 60 years old, diagnosed with fibromyalgia, and who had been treated with medication for more than three months without clinical improvement. After ten sessions in hyperbaric chamber, 90% of the patients responded satisfactorily.
Another study conducted in 2015 by researchers at the University of Tel Aviv and Rice University of the United States concluded that the use of hyperbaric chamber reduces pain in patients with fibromylagia. In this study participated 60 women diagnosed with the disease more than two years before, who underwent hyperbaric oxygenation sessions five times a week for two months. 70%  of  the patients showed significant improvements in their symptoms, which allowed them to reduce – and even eliminate – the use of pain medication for pain.
SOURCES:                              
Eficacia del tratamiento con cámara hiperbárica en pacientes con diagnóstico de Fibromialgia. Adelaida García Estiven, Juan Carlos Delgado Morales, Miguel Mukodsi Caram, Madelyn Campbell Miñoso
Hyperbaric Oxygen Therapy Can Diminish Fibromyalgia Syndrome – Prospective Clinical Trial. Ş Yildiz, MZ Kiralp, A Akin, I Keskin, H Ay, H Dursun, M Cimsit
Comments are closed.