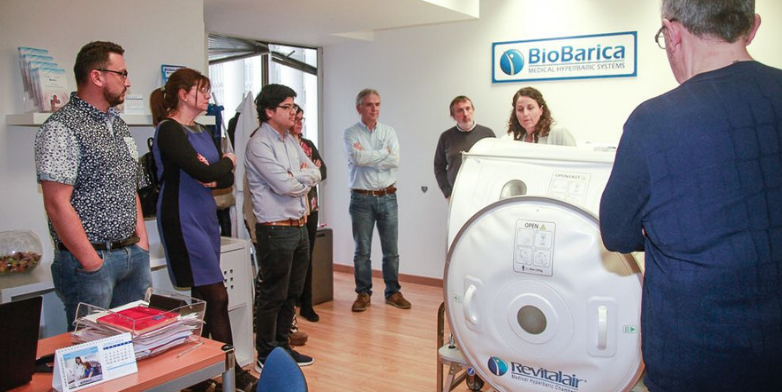 Hyperbaric Medicine is a non-invasive therapy that is based on increasing ten times the level of oxygen in the blood (hyperoxia). This favors cellular metabolism, achieving desinflammation and regeneration of the tissues.
The increase in oxygen (93% O2) is achieved by dissolving it in the blood plasma, and for this, it is necessary to apply it at atmospheric pressures higher than normal (1.45 ATM), through the hyperbaric chambers. This process deflates and improves the regeneration of all tissues, achieving an important chain of benefits in the body.
Most of the hyperbaric chambers are located in military facilities and were designed for the treatment of diving accidents and other cases of decompression, although they are increasingly found in more hospitals and clinics.
It is a treatment that can be prescribed by general and vascular surgeons, rehabilitation doctors, neurologists, oncologists, rheumatologists, and traumatologists. It can also be the patient who is interested in receiving this type of therapy.
ASPY and the application of Hyperbaric Medicine in PRL
The ASPY delegation in Barcelona has held an informative day on Hyperbaric Medicine addressed to medical specialists in Occupational Medicine. Delfina Romero, Medical Director of BioBarica ASPY, briefly explained the trajectory of BioBarica and its business model in full expansion. She highlighted especially the benefits of the current hyperbaric chambers. "Our hyperbaric chambers work at 1.45 atmospheres and in concentrations close to 100% oxygen. This allows covering complex cases and offering the same therapeutic effects, at a lower cost and without risks ".
This new type of hyperbaric oxygenation chambers, at medium pressure, allows to completely eliminate the risks of neurotoxicity and offers shorter decompression periods, so they are also indicated to treat patients with claustrophobia problems that may require a rapid evacuation.
During the presentation, there were explained some real cases of application of this type of therapies, as the case of a long-lasting ulcer in a middle-aged person in which the recovery was appreciated after 10 sessions, and with 20 the improvement was already remarkable, reducing inflammation and accelerating healing. She also explained a case of polytrauma in which hyperbaric oxygen helped to reduce inflammation of the lesions, reduce pain, increase plasticity and facilitate the physiotherapist's work during rehabilitation. In both cases, it was achieved acceleration between 20% and 35% of the recovery time and an improvement in the quality of life of the patient.
According to Dr. Pilar García Pardo, head of the Sport and Hyperbaric Medicine Unit of ASPY, "it is a therapy indicated especially for athletes, since it reduces the risk of injury and physical deterioration, improving recovery times "
The benefits of hyperbaric oxygen therapy
Angiogenesis and Neovascularization: stimulates and promotes the generation of small vessels, which accelerates the healing and recovery of tissues.
Stimulates the synthesis of collagen: hyperoxia is able to stimulate the synthesis of collagen, a fundamental process to heal and repair damaged tissues.
Decreases oxidative stress and the inflammatory response: hyperoxia regulates the inflammatory response and decreases.
Improves cellular immunological activity and stimulates stem cells: The presence of oxygen in high concentration stimulates and promotes the immune process which in turn helps the process of tissue recovery and formation of new blood vessels.
Osteogenesis and neuroprotection: high levels of oxygen in the blood favor bone repair by stimulating the bone-forming cells. In addition to creating new vessels and improving cerebral oxygenation, the neuroplasticity of the brain increases.
The application in Prevention of Labor Risks
Hyperbaric Medicine begins to make its way in Health Surveillance and Occupational Medicine. Although it is unknown to a large part of the population, it is a great ally in the prevention of occupational risks.
Benefits of Hyperoxia in workers
Improvement in the employee's quality of life, reducing pain and recovery times.
Prevention of injuries by reducing tissue fatigue.
Improvement in healing and decreases postoperative infectious rates.
Improves bone and muscle regeneration.
Anti-inflammatory effect and reduction of edema.
Increases plasticity, facilitating the physiotherapist's work in recovery.
Source
https://www.estrelladigital.es/articulo/comunicados/dra-delfina-romero-aumenta-demanda-medicina-hiperbarica-reducir-tiempo-recuperacion/20190522145810371912.html
Comments are closed.