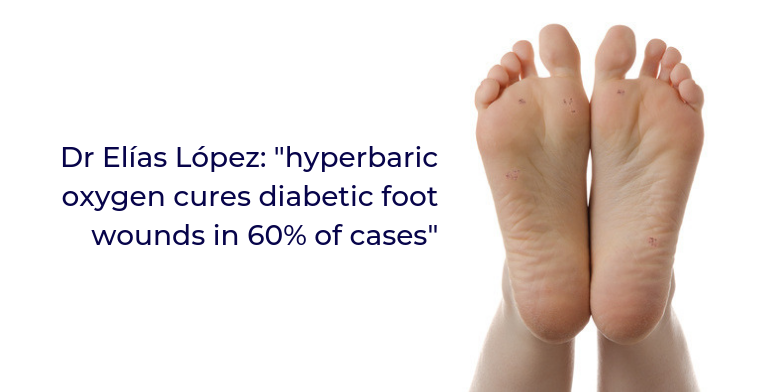 Dr. Elías López, head of BioBarica at the Santa Elena Clinic (Madrid), has pointed out that, although the response to the treatment of each patient is different, hyperbaric oxygen therapy (HBOT) improves the symptoms of 90% of the patients affected by diabetic foot and completely heals wounds in 60 percent of cases, rising to 80 percent when treatment starts early and it does not wait for a wound or ulceration more important.
"This is the best way to prevent amputations, given that they occur due to a badly evolving wound, and in the case of those patients who come with an indication for amputation, the percentage of cure is variable. We are talking about patients that receive more care, and not everything can be done with hyperbaric chamber, but it is true that even in these more extreme cases we can limit and, even more, to avoid amputations, although as I said, here the success rates are variable and minors than in the rest of the cases ", has detailed the specialist.
Diabetic foot, a complication of diabetes, is an alteration of neuropathic origin induced by hyperglycemia, which turns the limb into a risk zone at the time of suffering lesions and ulcers that are difficult to cure and that can lead to amputation of the member in 26 of every 100,000 affected. This data means that diabetes is the most frequent cause of non-traumatic amputations.
"We must bear in mind that a diabetic foot has an increased vulnerability to injuries, injuries that take a long time for the patient to feel due to this peripheral neuropathy that makes him lose sensitivity in his feet", said Dr. Delfina Romero, medical director of BioBarica Spain.
For this reason, those affected by diabetes are advised to check their feet every day in search of "the slightest wound" and not leave it untreated for more than two days, because even the chafing of a shoe "can degenerate into a serious health problem". Also, remember that damage to the blood vessels can cause the feet not to receive enough blood and oxygen, which makes healing of sores and wounds difficult.
BENEFITS OF HBOT
At the vascular level, these two experts detail that HBOT produces benefits in the form of vasoconstriction and repair of the vascular tissue of small damaged vessels. "The vasoconstriction generated at the osteoarticular level decreases inflammation, edema and painful points, and in the medium and long term favors the formation of collagen and fibroblasts, substances involved in the healing of wounds and tissues", said Dr. Elías López.
That, adds Delfina Romero, translates into better healing that occurs in shorter times. "The wounds in the diabetic foot are very prone to infections, increases necrosis in peripheral areas, and hyperbaric oxygen manages to reduce these infections by promoting the immune system", she said.
In summary, they explain that with this treatment in patients with diabetic foot, the possibility of new wounds is reduced, symptoms such as pain are controlled, healing of ulcers and lesions is helped by combining anti-inflammatory action, collagen stimulation and increased blood circulation. by the formation of blood vessels, complications such as infection are avoided, bone compromise decreases, it acts as an adjuvant of necrotizing infections and reduces the rate of amputations.
Source
https://www.eleconomista.es/salud/noticias/9185164/06/18/Un-experto-senala-que-el-oxigeno-hiperbarico-cura-las-heridas-del-pie-diabetico-en-un-60-de-los-casos.html
Comments are closed.