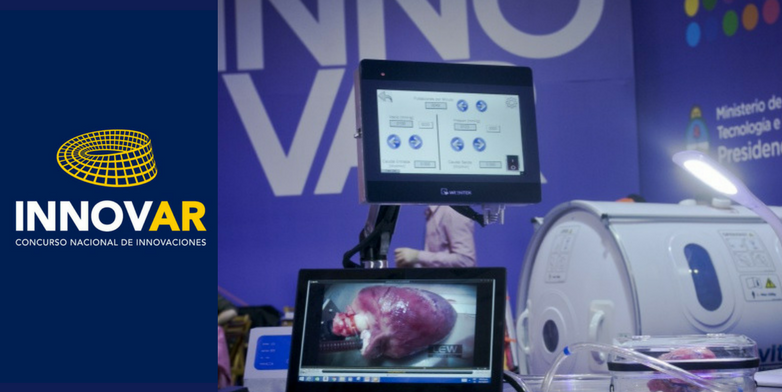 The thirteenth edition of the "National Innovations Competition – INNOVAR 2017" organized by the Ministry of Science, Technology and Productive Innovation through the National Program for the Popularization of Science and Innovation was held in Tecnopolis from Thursday 5 to Sunday, October 8.
The aim of the contest is to stimulate and disseminate knowledge transfer processes and technologies applied to products that improve quality of life. Under this theme came the participation of BioBarica, in the Health category. The company presented its hyperbaric chamber, being selected among more than 1200 projects.
The company is the creator of the only hyperbaric chamber approved by ANMAT. Focused on improving the quality of life of patients with different pathologies such as fibromyalgia, migraines, sudden deafness, various injuries, traumatology, neurology (CVA, Alzheimer's, spinal cord injuries and Parkinson's), child neurology (cerebral palsy, autistic spectrum, PDD). It also has different centers of care in the country where it provides treatment with hyperbaric oxygenation.
Treatment with Hyperbaric Oxygenation (HBOT) is a non-invasive method that involves supplying oxygen to the blood in high concentrations. The hyperbaric chamber is pressurized to a minimum of 1.4 atmospheres ATM (higher than the normal atmospheric atmospheric pressure that is 1 atmosphere). In this way, the person can breathe 100% oxygen and achieve great benefits in the body.
In a year of important advances for the company, both nationally and internationally, Claudio Teler said: "We are very happy to have participate in INNOVAR 2017. We believe that it is a big incentive for us to know each other, to show what we do and to continue strengthening the benefits of hyperbaric medicine in the country".
Source: http://www.conceptodemujer.com.ar/index.php?option=com_content&view=article&id=3349:biobarica-dijo-presente-en-innovar-2017&catid=25&Itemid=135
Comments are closed.