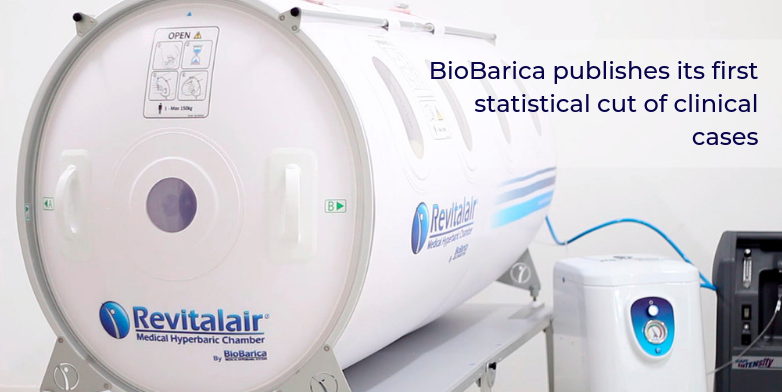 In its latest edition of 2018, the magazine of the Argentine Medical Association included the first statistical cut of the cases treated with the Revitalair 430 hyperbaric chambers. In "Medical applications of the new generation of hyperbaric oxygenation chambers", BioBarica presents a review of all the new emergent applications of Hyperbaric Oxygen Therapy in several medical specialties, due to the fact that it achieves benefits in wound healing, inflammatory diseases and with a neurological or ischemic component.
The new chambers perform the treatment at efficient pressures that are demonstrated by mathematical and biochemical methods. The Revitalair® 430 hyperbaric chamber arises from the combination of new technologies with an innovative design that uses materials and components to facilitate its use. It is basically composed of two parts: the chamber or cabin (with base) and the compressor.
Inside the chamber, patients breathe O2 in a concentration close to 100% (administered through a mask with a reservoir), in sessions of 60 to 90 minutes, three to four times a week according to medical advice.
In recent years, hyperbaric oxygen therapy has been applied in several conditions at pressures close to the minimum required (around 1.4 atm, as established by the Hyperbaric Medicine Societies). This pressure is safer and has shown excellent therapeutic efficacy.
The BioBarica Clinical Research Group shows the statistics of the indications in 559 patients treated with these chambers in some medical centers and the medical specialties involved. The use of HBOT at medium pressure is in emergency and could provide future evidence of its effectiveness in other medical specialties.
Hyperbaric oxygen therapy is widely used successfully as primary therapy and adjuvant in different pathologies. Its effectiveness is based on the generation of hyperoxia that allows different physiological benefits for the patient. The BioBarica Clinical Research Group † is constantly developing clinical evidence in various pathologies with an inflammatory component, due to the biological safety and accessibility of the new HBOT hyperbaric chambers with Revitalair® 430 technology.
The HBOT performed by these hyperbaric chambers has optimal performance and works at the ideal pressure for pediatric and neurological diseases, as it is safer and more effective. The accessibility to the doctors would extend its use and its effectiveness would be verified in other pathologies increasing the range of clinical applications.
The clinical use of hyperbaric oxygen therapy (HBOT) consists of breathing oxygen at a concentration close to 100% in a pressurized chamber at least 1.4 absolute atmospheres (atm). HBOT acts producing hyperoxia and reactive oxygen species that trigger varied biochemical mechanisms.
To read the statistical cut enter here.
Comments are closed.