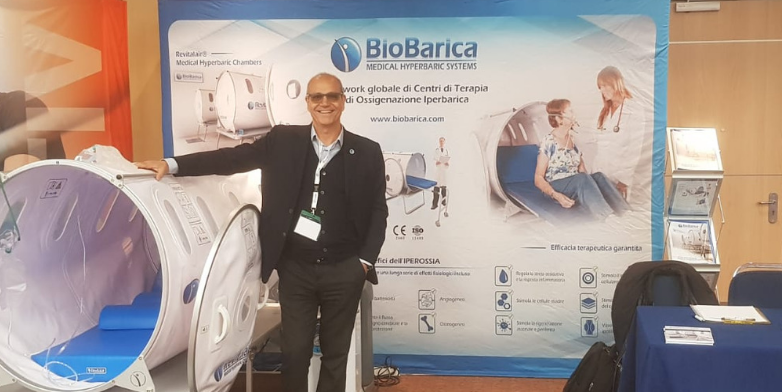 BioBarica is at the XXXVI National FMSI Congress in Rome. The event takes place at the "Rome Cavalieri" Hilton Conference Center, from March 27th to 29th, 2019. The objective of the conference is to provide professional training and updating, but it is also a time of fruitful encounter and comparison between all members of the FMSI.
This Congress has a special meaning because it is the 90th anniversary of the founding of the Federation. The FMSI has been able to transform itself from a federation of services to a Scientific Society of reference in an already supranational environment, always striving to embody and defend, in Italy and in the world, the excellence. The "Italian model" derives from the history of the university, sports and legislative system of the country: from the protection of athletes' health through compulsory certification of sports fitness to the fight against doping to scientific research and applied to physical activity.
For this reason it is held a congress that can exploit the breadth and transversality of the skills of sports medicine, focusing on the theme of primary, secondary and tertiary prevention, through the correct prescription of physical activity as a "tool for risk reduction and for the consequent improvement of the so-called biological age with respect to age".
According to the organizers, it is intended to promote moments of aggregation and exchange to celebrate and revive the "collective federal memory" that, based on the memory of the work of the founding fathers of sports medicine, will be able to tell the highlights and the most important projects relevant to the history of the federation.
Our distributor in Italy, Domenico Crocicchia, is present at this event to share with different professionals in sports medicine the benefits of incorporating hyperbaric oxygen therapy to accelerate the recovery of sports injuries and improve the post-training and competition athlete's performance.
Comments are closed.