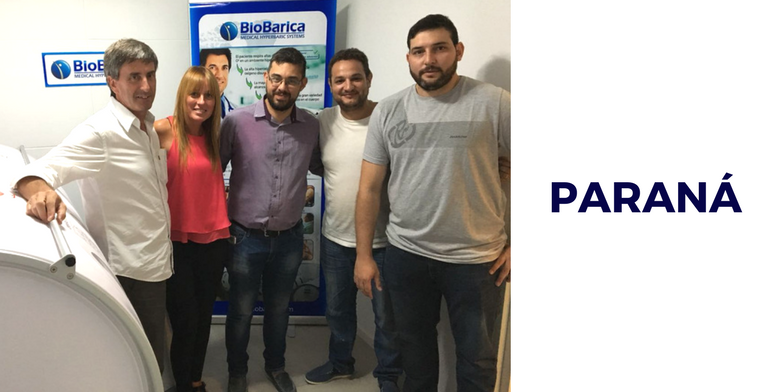 Improving the health and quality of life inside a chamber that offers oxygen at high concentrations is possible. Hyperbaric medicine continues to grow in Argentine as the complementary treatment of various diseases. BioBarica, founded in 2009, is the first national enterprise in the manufacture of cameras that provide the treatment of hyperbaric oxygenation approved by ANMAT.
Present in more than 15 cities in the country, BioBarica continues to expand and in recent days inaugurated two hyperbaric chamber centers: one in Paraná and the other in the Sanatorio Americano of Villaguay, both locations in the province of Entre Ríos. At the inaugurations, the director of the Biobaric Network, Pablo Varán, and the medical director, Dr. Mariana Cannellotto, explained that: "the process enables oxygen to reach the brain, cartilage, bones and tissues even those less irrigated".
To these inaugurations is added the presence of BioBarica in Concordia and Concepción del Uruguay, also in Entre Ríos.
Treatment with hyperbaric oxygenation is a non-invasive method that consists of an increase of oxygen in a pressurized hyperbaric chamber. It helps to improve the symptoms of different pathologies such as fibromyalgia, migraines, sudden deafness, various wounds, traumatology, neurology (CVA, Alzheimer's, spinal cord injuries and Parkinson's), child neurology (cerebral palsy, autistic spectrum, PDD), among others.
As they indicated, the treatments with Hyperbaric Chamber help and make more efficient the healing processes, deflating the tissues, improving the metabolism, reducing the recovery times of the wounds and accelerating post-surgical processes. It also helps to prevent diseases.
Hyperbaric Medicine can be indicated for professionals of any specialty and is safe and painless.
Data of the centers
Concepción del Uruguay
Justo José de Urquiza 288
Phone: (03442) 15463530
E-mail: concepciondeluruguay@biobarica.com
Concordia
Salta 121, Concordia, Entre Ríos. (CP3200)
Phone: +54 9 345 422-9245
Paraná
Victoria 563, Parana, Entre Ríos.
Phone: (0343) 407 3594
parana@biobarica.com
Villaguay
Rivadavia 360 – (3240) Villaguay – Entre Ríos
Phone: 03455 – 421370
villaguay@biobarica.com
More information: www.biobarica.com
Comments are closed.